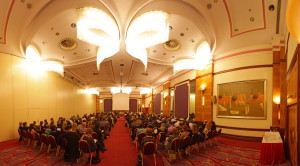 The XIX RENT 2015 Conference, whose topic was Entrepreneurial Society: A Platform for New Solutions to Old Problems, organized by ECSB, EIASM, and local organizer J.J. Strossmayer University in Osijek, Faculty of Economics, UNESCO Chair in Entrepreneurship was held on November 19–20, 2015, in Zagreb, Croatia. The conference, which was attended by 235 delegates from 26 different countries, who presented 153 selected papers in 11 tracks, was not only successful in terms of attendance – the participants' feedback also confirmed their satisfaction with the vibrant discussions, the organization, and overall atmosphere of the conference.
The plenary session confronted a researcher's view on a burning social, political, and economic issue, and featured a personal story of a local entrepreneur. The first keynote speaker Professor Monder Ram, University of Birmingham, and Director of the Centre for Research in Ethnic Minority Entrepreneurship (CREME), opened the plenary session, talking about "Migrant Entrepreneurship: Reflections on Research and Practice". His speech was followed by Mrs Jadranka Boban Pejic, Director, Biovega, Zagreb, who presented "My story – Passion as Share Capital".
In addition to the RENT conference, there were several ECSB pre-conference activities, which attracted a large number of participants. The Policy Forum on Success and Failures in SME Business Transfer (led by Mirela Alpeza and Eddy Laveren) attracted next to conference participants also Croatian business people as well as several policy makers. Young researchers attended with enthusiasm the ECSB Doctoral Seminar on Entrepreneurship and Small Business (led by Steffen Korsgaard), the ECSB Post-doctoral Writing Workshop (led by Christina Diaz) and the Workshop on Progressing in Academic Peer Reviewing – The Good, The Bad and The Ugly (led by Erno Tornikoski and Robert Blackburn). The Workshop Wonderdriven Entrepreneurship Education – Try a Wonder lab (led by Sine Maria Herholdt-Lomholdt) was especially interesting for those looking for new approaches in teaching/learning.
Conference was financially supported by Croatian Chamber of Economy and Croatian Bank for Reconstruction and Development.
Photos of the conference are available at the link https://www.dropbox.com/sh/xnx3whv8epy7lud/AAC_f21A77YlA-XM7ijgdNr2a?dl=0