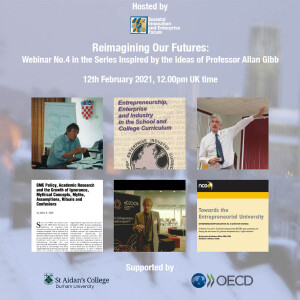 Webinar topic: "Universities as partnership models for driving positive change"
It is our pleasure to invite you to participate in the fourth Webinar inspired by the ideas of Professor Allan Gibb (1939 – 2019).
Supported by the OECD and St Aidan's College, Durham University, UK and hosted by the Societal Innovation and Enterprise Forum (SIEF).
Date: Friday February 12th, 2021
Time: 12.00 noon – 13.45 UK time / 13.00 – 14.45 Amsterdam time
You can register via this Eventbrite link – https://bit.ly/2XSkrmK
Do register as soon as possible to avoid disappointment.
The webinar will be moderated by Professor Andrew Atherton, Global Director of Transnational Education (TNE), Navitas
Panel members include:
Dr Dana Brown, Dean of Carleton University's Sprott School of Business, Ottawa, Canada
Professor Paul Gough, Vice Chancellor and Principal, Arts University Bournemouth and Former Vice President, RMIT, Melbourne, Australia
Dr Pegram Harrison, Senior Fellow in Entrepreneurship, Saïd Business School, University of Oxford, UK
Ms Emma Cats, near-graduate, University of Leiden, the Netherlands. She holds two bachelor's degrees in Political Science and Law
Mr Keith Herrmann, Former Director of Careers and Employability, University of Surrey, UK
Dr Paul Robbins, Dean of the Nelson Institute for Environmental Studies, University of Wisconsin-Madison, USA
Attached is a brochure outlining the theme for Webinar 4, panel members and more general information about the Webinar series we are organising.
Allan Gibb was an inspiration to the field of Entrepreneurship and Small and Medium Enterprise (SME) Development for over fifty years. His concept of Entrepreneurship was not solely focused on new business ventures and business growth but also upon the skills, attributes and behaviours of enterprising people in all kinds of organisations. These included universities, and his writing and teaching on the topic of the Entrepreneurial University was pioneering.
Allan's work and influence spanned every continent. As a result, we have brought together an exciting group of panellists from Canada, Netherlands, USA and the UK. We plan to host a virtual discussion session immediately following the panel debate for participants to engage and interact via zoom on the issues raised during the webinar.
You can send us your questions ahead of the webinar (by 3rd February) in order that the panellists can consider them in advance. Send to kherrmann@me.com
With warm regards and hoping very much that you will be with us,
Dinah Bennett, Susan Frenk, Andrew Atherton, Ted Fuller, Yolanda Gibb, Gay Haskins, Keith Herrmann, Colin Jones, Andy Penaluna, Kathryn Penaluna, Jane Rindl, Slavica Singer, Mike Thomas, and Marju Unt
(SIEF Webinar Series Organising Team)