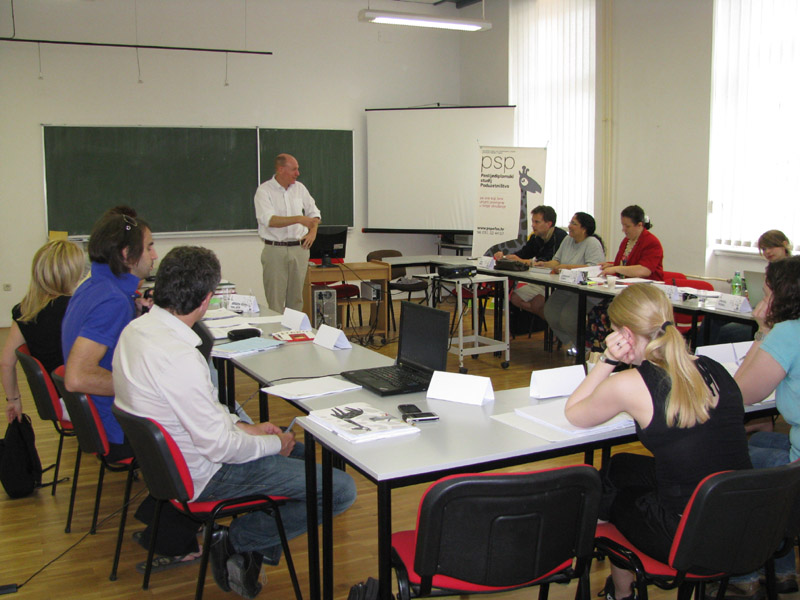 DREAM is based on the ideas of Professor Saras Sarasvathy, Darden Graduate School of Business, University of Virginia and her collaborators. Saras Sarasvathy will chair the retreat together with Professor Stuart Read, IMD, Switzerland.
DREAM is organized by J.J. Strossmayer University in Osijek, Faculty of Economics, Doctoral Program Entrepreneurship and Innovativeness, in collaboration with The Batten Institute at the Darden School, University of Virginia.
To whom it is intended
those interested in a doctorate in the field of entrepreneurship – 5 ECTS will be granted for completing the seminar's requirements
members of the academic community (professors, assistants, postgraduate students)
those interested in new knowledge in the field of entrepreneurship
Start date: 27.05.2013.
End date: 31.05.2013.
Location:  Dubrovnik
Venue: IUC Dubrovnik
Fee
600 EUR plus VAT (25%)
Admission fee covers:
– Seminar materials
– Coffee and refreshments during the seminar
Course Credits:  5 ECTS
Suggested accommodation facilities 
TBA
Contact:
Mirta Matesic
mmatesic@efos.hr
phone: +385 31 224 467
Background for DREAM
Entrepreneurship research is a relatively young discipline that has until recently been focused on the recognition and discovery of opportunities.  As it grows up and engages in a more serious conversation with the history of ideas, an additional exciting agenda might consist in researching entrepreneurship not only as finding but also as 'making' new opportunities, firms, markets and institutions.   Intellectual inspiration for this agenda comes from works such as Herbert Simon's Sciences of the Artificial, Nelson Goodman's Ways of Worldmaking, and James Buchanan and Victor Vanberg's Market as a Creative Process.
The DREAM Philosophy
DREAM is designed for both researchers and educators who care about the rigorous intellectual aspects of studying and teaching entrepreneurship.  Research for DREAMers spans everything from publications in top-tier journals to developing your own research agenda at every level of what you do, be it teaching or writing for practitioners and policymakers, for the purpose of deepening your own intellectual understanding of what you do.
The DREAM Agenda
Through DREAM we will think through and map the possibilities for an agenda for entrepreneurship research that relaxes the assumption that most key variables in our models are exogenous to the decision process; that outcomes are largely determined through pre-existing stable relationships between those variables; and that we are caught in a strict dichotomous choice between micro and macro levels of analysis.  Note that DREAM will touch upon teaching effectuation as well as learning to understand important intellectual concepts related to it.
Specific Objectives of DREAM: To understand the importance of combining rigor with relevance in research, whether the research is aimed at publishing in a top-tier peer-reviewed journal or whether it is meant for more actionable purposes such as policy and pedagogy.  Also,
To craft interesting questions that are researchable and worth researching
To identify the basics of good research designed to address those questions
To develop a first-hand feel for our research process – fun, flair and ferocity combined!
To identify and design opportunities for research within the classes you teach
DREAM Croatia 1 Attendant's Testimonials
The DREAM week in Osijek, really was a dream course for PhD students. It offered the latest insights in the field of entrepreneurship as well as interactive discussions on research design, the review process and, of course, effectuation. Moreover, the course offered individual feedback sessions by top researchers in the field. The international setting, informal activities and team spirit have made this a truly inspirational week! I would highly recommend this course to any PhD student in the field of entrepreneurship.
Sharon Dolmans, University of Technology Eindhoven, Netherlands
As a young researcher, participation in the DREAM program was extremely valuable to me. This was a rare chance to get a first-hand advice from world-class researchers on defining research question and hypothesis, applying to scientific journals, dealing with reviewers' feedback, and many other questions researchers often face in their work. In addition to that, we had an opportunity to discuss our own individual research work with Saras, Stuart and Rob in one-to-one conversation. Besides, access to the Effectuation website and class materials that was granted to all workshop participants turned out to be an extremely useful source of information for organizing courses in entrepreneurship and entrepreneurial management.
Marina Jeger, PhD Student, Assistant, Faculty of Economics in Osijek, Croatia
Saras Sarasvathy and her top team did excellent work in organizing this first workshop in Croatia. Articles before workshop were very well selected and did help me to orientate in my own research. The workshop itself did give clear understanding about effectuation. The people I learned to know in workshop still contribute to process of doing my thesis. With the experience of some other workshop too, the Croatian one is the very best I have been.
Juha Tall, PhD Student, University of Vaasa, Finland
– We discussed the big ideas in economy (Schumpeter, Hayek and Kirzner) under the title "made as well as found" and moreover build bridges to learn how to create value and to bring in valuable new ideas in the world (even without any engagement of the government).
– We got a deep view inside "What research really means", "How research designs can look like", "How senior-researchers organize publication processes", "How senior-researchers deal with challenges and problems during review- and public processes"
– We got the chance to develop and to reflect our research ideas with Saras, Stuart and Rob in confidence and moreover present and discuss them in within the group.
– What I found remarkable is, that the 24 workshop participants came from nine different countries, so it is arguable that effectuation is from great interest for researchers from all over the world and we left Croatia with a mind full of high quality feedback, constructive suggestions and great thought impetus.
Laura Paulina Mathiaszyk, Schumpeter School of Business and Economics, University of Wuppertal, Germany
DREAM 2013 Schedule and reading lists
Preparing to attend DREAM
In addition to admission requirements for specific DREAMs, participants will be required to fill out an initial survey –They will also be sent the following reading materials:
Sarasvathy, S. D.  2008.  Effectuation:  Elements of Entrepreneurial Expertise. Edward Elgar, New Horizons in Entrepreneurship Series. (Nominated for Terry Book Award, Academy of Management)
Read, S., Song, M. and Smit, W. 2009. A meta-analytic review of effectuation and venture performance. Journal of Business Venturing, 24(6): 573-587
Read, S., Dew, N., Sarasvathy, S. D. and Wiltbank, R. 2009.  Marketing under uncertainty: The logic of an effectual approach. Journal of Marketing, 73: 1-18.
Wiltbank, R., Read, S., Dew, N., and Sarasvathy, S. D. 2009. Prediction and control under uncertainty: Outcomes in angel investing, Journal of Business Venturing, 24(2): 116-133
Venkataraman, S., Sarasvathy, S. D., Dew, N. and Forster, W. 2012.  Whither the promise?  Moving forward with entrepreneurship as a science of the artificial. Academy of Management Review, 37(1): 21-33
Sarasvathy, S. D. and Venkataraman, S. 2011. Entrepreneurship as method:  Open questions for an entrepreneurial future.  Entrepreneurship Theory and Practice, 35(1): 113-135.
Additionally, if possible, we highly recommend you purchase and read the book by Martin and Inge Goldstein, 1978.How We Know: An Exploration of the Scientific Process. Plenum Publishing Corp, New York, NY
In collaboration with: