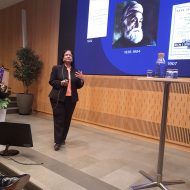 Professor Saras Sarasvathy is the 2022 Global Award for Entrepreneurship Research laureate. Since its inception in 1996, this award has been established as the foremost global recognition for research on entrepreneurship. The partners behind the award are Swedish Entrepreneurship Forum, the Research Institute for Industrial Economics, Vinnova (sponsor) and Lars Backsell (donor), The Prize consists of the statuette "The  Hand of God" created by Swedish sculptor Carl Milles and a Prize sum of 100.000 euros.
Here is an excerpt from the explanation for the award:
"Professor Saras Sarasvathy's research has fundamentally changed and invigorated the conversation in the domain of entrepreneurship research. Her work on effectuation emphasizes how entrepreneurs operate based on available resources, think in terms of affordable loss rather than profit maximization, leverage trustworthy partnerships, and treat unforeseen contingencies as opportunities rather than problems."
Professor Sarasvathy invited Professor Singer to accompany her in Stockholm for this event and here is a short video prepared in advance by Professor Singer and photos from the ceremony.
CONGRATULATIONS Professor Sarasvathy, from students and professors, your friends at the doctoral program ENTREPRENEURSHIP AND INNOVATIVENESS.